"To achieve great things, one must embrace discomfort" – Jabulani Nyathi  
As South Africa commemorates the role of our youth in the liberation of South Africa, N3 Toll Concession (N3TC) pays tribute to the indomitable spirit of our country's young people, their resilience and ability to thrive despite hardships and challenges.
"Through N3TC's Touching Lives Bursary and Education Programme, we are honoured to be exposed to many extraordinary young people who use opportunities, overcome challenges and grow into exemplary human beings. Jabulani Nyathi is such a young man. He is one of South Africa's rising stars," says Con Roux, N3TC's commercial manager.
This former Drakie is now packing his bags for Cambridge
Jabulani's story starts in Mpumalanga, but N3TC first heard him in 2009 when he became a recipient of one of the bursaries offered by N3TC and the Drakensberg Boys' Choir (DBCS).
Jabulani was attending a Nelspruit primary school, Laerskool Laeveld, when the then conductor of the Drakies (as the choir is fondly known) spotted his talent.
"I always sang in the choir. It was my main extra-curricular activity, and I was immediately intrigued when I auditioned for the Drakies. Never, however, did I expect this first step to become the start of an incredible life journey," he beams.
Jabulani joined the DBCS in 2009, and in his final year received a full scholarship from ISASA to continue his secondary education at Kearsney College. Jabulani matriculated from Kearsney in 2015 as Dux scholar, excelling in subjects such as physical science, drama and music, becoming one of the top 5% achievers in six or more subjects in South Africa, and finishing in the top 1% for physical sciences, drama and music. In his final school year, he was also deputy head prefect, head of the choir and captain of the cross-country team.
His hard work now opened a new door for him. After his final school year, Jabulani was admitted to the University of Cape Town with a full scholarship from the prestigious Allan Gray Orbis Fellowship to study BSc Chemical Engineering.
Upon his graduation from UCT at the end of last year, Jabulani received another feather in his cap when he was awarded the Cecil Renaud Overseas Scholarship. The scholarship is awarded to the best and brightest young South Africans who completed their secondary schooling in Kwazulu-Natal, and whom the trustees believe exude academic excellence, and show evidence of focus, commitment, stamina and leadership.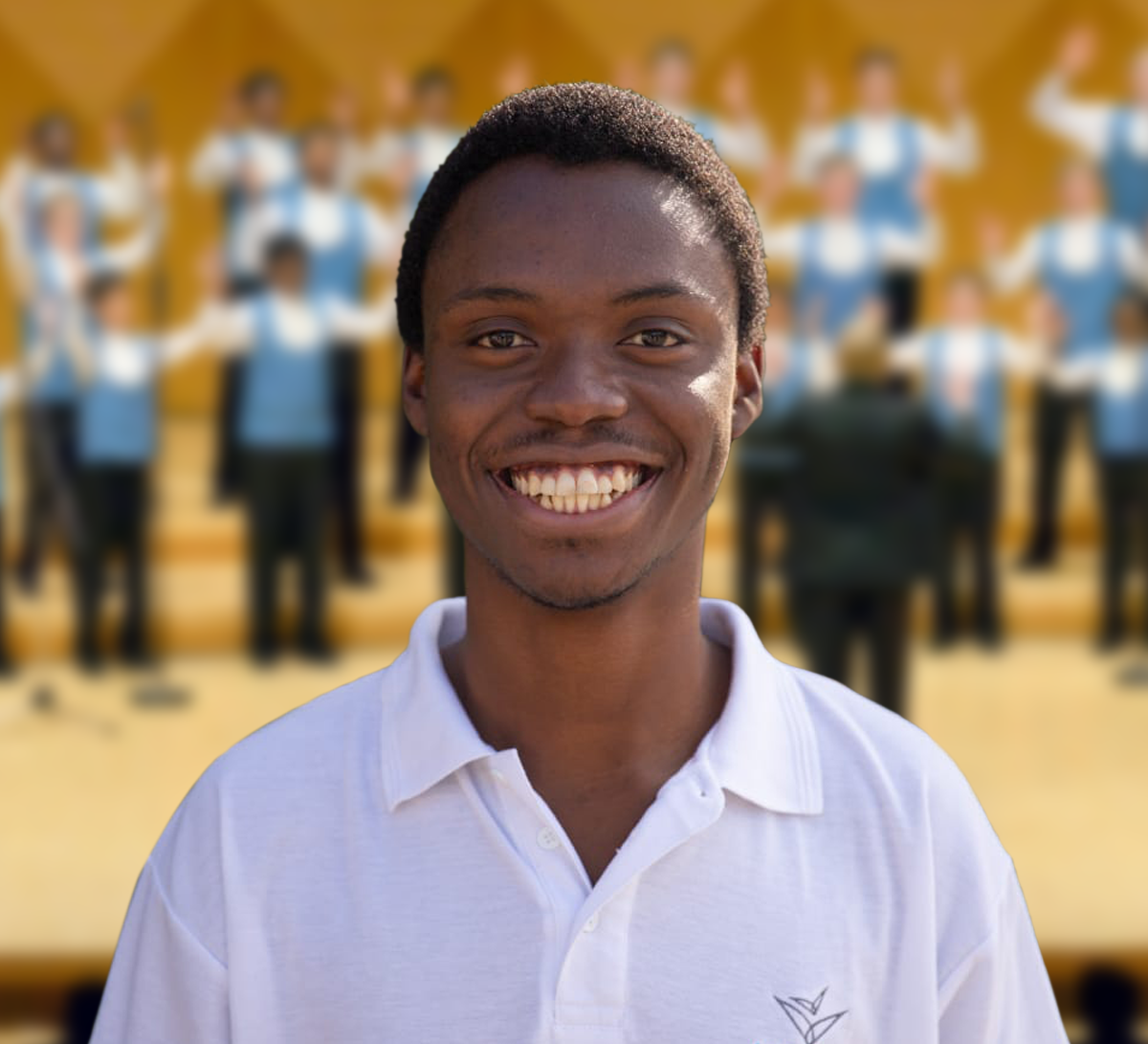 Gratitude and passion
"I am incredibly grateful for my well-rounded education. It is a privilege and honour to have been awarded this scholarship. I will now be studying towards an MPhil in Engineering for Sustainable Development at the University of Cambridge in the United Kingdom. My goal is to use this postgraduate opportunity to create sustainable futures for generations to come. I am passionate about seeing a flourishing planet where people's needs are met, the environment is looked-after and prosperity is not a reality for only a select few," explains Jabulani. "Music will always bring me great pleasure. Its joy lies therein that it can be shared and enjoyed by all types of people, from different places and all walks of life. I find it a beautiful medium of expression that describes the human experience in a way that words cannot do."
Embrace the unknown
"At the age of 12, on my first day at Drakensberg Boys' Choir School, I was incredibly nervous. Everything was foreign, and overwhelming, and very different to my life at home and what I have experienced up to this point. But, being so completely out of comfort zone, also quickly brought me to the realisation that discomfort is part of growth, and it has to be embraced if you wish to achieve more in life."
Now, at 23, Jabulani is confidently looking back at the many challenges that he had to overcome.
Seize opportunities
"Coming from a single-parent home meant that finances were always a hurdle, but never a hindrance, because I was able to reach for my dreams through hard work, and being blessed by people who believed in me and invested in my future.
Overcome hardships
Another significant challenge that I had to overcome was my battle with anxiety and depression.
When you are a pioneer in your family or community, and you are the one stepping out into the unknown, it may challenge you in ways that you did not anticipate. While I grappled through feelings of inadequacy, I was supported by a strong group of family, friends and mentors. They were key in helping me to pick myself up and push ahead."
Find a team
"I encourage all young people, but particularly those of colour, to seek help and to accept that you don't have to go it alone to prove your self-worth. Surround yourself with people who care about you, who can mentor and inspire you, and who will ultimately help you to become a better version of yourself," says Jabulani.
"A great deal of my inspiration comes from my peers, and the people I get to work and live with every day. Everyone who crosses my path has a unique story and perspective that I learn from.  I have also had multiple mentors over the years. My mentors have taught me about the power of meaningful and intentional relationships, and to stay humble irrespective of the number of accomplishments and accolades you receive. It is important to always be mindful, open to learning and getting new insights from others."
"There is something powerful about being guided by a person who has walked ahead of you, and who is willing to show you the way into the future, and to make a meaningful contribution to society," explains Jabulani.
"I value relationships and people, and as the meaning of my first name states (to be happy and joyous), I intend to bring joy and hope to those who cross my path. And in doing so, hard work is an important ingredient to making a positive contribution."
Never let circumstance dictate your intrinsic worth
"We are facing tough times, and our immediate future will probably be full of challenges, but I encourage each young person to persevere, to be resourceful and to be willing to learn. Make use of every learning opportunity that may come your way. We can transform our futures through our interactions with each other and the environment in which we live. Let us commit to shape our lives together for the better. Umuntu ngumuntu ngabantu – we will become who we are meant to be through our collective efforts," ends Jabulani.
On Youth Day, N3TC joins Jabulani Nyathi to wish you powerful dreams and bright futures.