TRAFFIC ALERT for 23 October 2020
A slight increase in traffic may be expected on N3 Toll Route at the start of the October school holiday
With public schools closing for a short break on Friday (23 October), N3 Toll Concession (N3TC), the company managing the N3 Toll Route, warns road users to plan for an increase in traffic in the coming week.
"Although the route is not expected to be as busy as other long weekends or holiday seasons, travellers are reminded that the N3 connects many tourism destinations from Gauteng to Mpumalanga, the eastern and southern Free State, the uKhahlamba-Drakensberg mountain range, KwaZulu-Natal Midlands, the port of Durban and the many coastal towns along the Indian ocean. This may result in traffic volumes picking up on peak days and over weekends," explains Thania Dhoogra, operations manager of N3TC.
N3TC and its contractors are pulling out all stops to make up for the earlier disruption to the N3 Toll Route's rehabilitation and construction programme as a result of the national Covid-19 lockdown.
"Unfortunately, we cannot delay our road works programme any further. Our construction teams are making every effort to have the N3 Route ready for the December peak traffic season. Therefore, as you are planning your trip, do keep in mind that congestion and delays may be experienced at peak times on the N3 Toll Route, particularly in the vicinity of construction zones," explains Dhoogra.
Lane closures may be expected at the following sites:
Villiers to Warden
Frere (R74) to Midway
Van Reenen's Pass
Mooi River to Howick
"If at all possible, motorists are advised to plan their travels outside of peak periods," recommends Dhoogra. 
Expected peak traffic times on the N3 Toll Route I 23 – 24 October
The grid below provides an overview of expected traffic volumes in a southbound direction (towards KwaZulu-Natal) this weekend.
GREEN:               Light to slight in volumes (< 800 vehicles per hour)
YELLOW:             Busy traffic conditions (800 – 1500 vehicles per hour)
RED:                    Heavy (high) traffic volumes with slow moving conditions, possible congestion and delays (> 1500 vehicles per hour)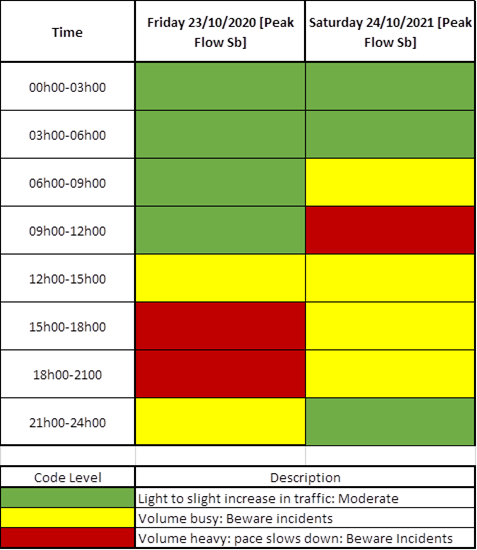 Along the N3 Toll Route, N3TC operates a Route Control Centre (RCC) where all information regarding road conditions, incidents, weather, traffic and other travel alerts are received. Vital information and early warnings are disseminated from this central communication hub via a 24-hour helpline and other media platforms. Road users can obtain essential information or report problems on the N3 Toll Route by contacting the helpline on 0800 63 4357 or following N3TC on Twitter: @N3Route.
…/ends.
Date issued:       22 October 2020