N3 Toll Route | Traffic Update | 18-21 March 2022
Road users advised to plan for increased traffic volumes on the N3 Toll Route this weekend
With the start of the holiday for inland schools coinciding with the Human Rights Day long weekend, N3 Toll Concession (N3TC) and its traffic management partners are gearing for an increase in southbound traffic (towards KwaZulu-Natal) from midday on Friday, 18 March.
Busy conditions are also expected in a northbound direction (towards Gauteng) on Monday, 21 March, but as a result of the school holiday, return traffic volumes will most likely be lower than on Friday. Inland schools will reopen on Tuesday, 05 April.
Wet weather conditions may place an extra burden on motorists
Leading into and during the long weekend, the South African Weather Service has forecast that severe thunderstorms and scattered showers are likely to occur along most parts of the N3 Toll Route. This may result in difficult driving conditions, traffic congestion and possible delays, and may cause additional stress and frustration for motorists.
N3TC appeals to drivers to be extra cautious and patient under these conditions, and to drive defensively. "Drivers should please switch their headlights on for increased visibility, reduce speed and increase their following distances. Remember, speed limits are set for ideal conditions, not for poor weather and travel conditions," explains N3TC's operations manager, Thania Dhoogra.
Approach construction zones with caution
Frankfort/Vrede – Warden
The N3 Toll Route is currently being rehabilitated and upgraded between Frankfort/Vrede and Warden in the Free State. The shoulder lane may, at times, be closed over short distances in this section.
Nottingham Road – Tweedie
Lane restrictions should also be expected over short distances in the construction zone between Nottingham Road and Tweedie in KwaZulu-Natal. This may result in slow moving traffic and possible delays during peak times. However, in order to accommodate the expected higher volumes, the construction team plans to work in the opposite direction of the expected peak flow on Friday and Monday.
Lions River
Special maintenance work is currently being undertaken on the N3 Toll Route in the vicinity of Lions River near Howick in KwaZulu-Natal. The northbound slow- and shoulder lanes are closed to traffic, but the slow lane will be reopened to accommodate the increase in northbound traffic on Monday, 21 March. The shoulder lane will, however, remain closed.
Road users are requested to please adhere to the reduced speed limits in all these construction areas and to carefully pay attention to the various traffic signs. 
Traffic Forecast
Peak travel times are indicated in red on the grid below. Traffic volumes may increase to well over 2000 vehicles per hour at peak times. High volumes may result in slow moving traffic and extended travel times, in turn placing additional burdens on travellers and traffic management resources. Tired drivers lose their concentration and are easily distracted, which often leads to mistakes being made. The majority of crashes on the N3 Toll Route are caused by human error, such as drivers losing control and rolling their vehicles; head-tail collisions and/or vehicles leaving the road. Speed, reckless and negligent driver behaviour and unroadworthy vehicles also contribute to crashes.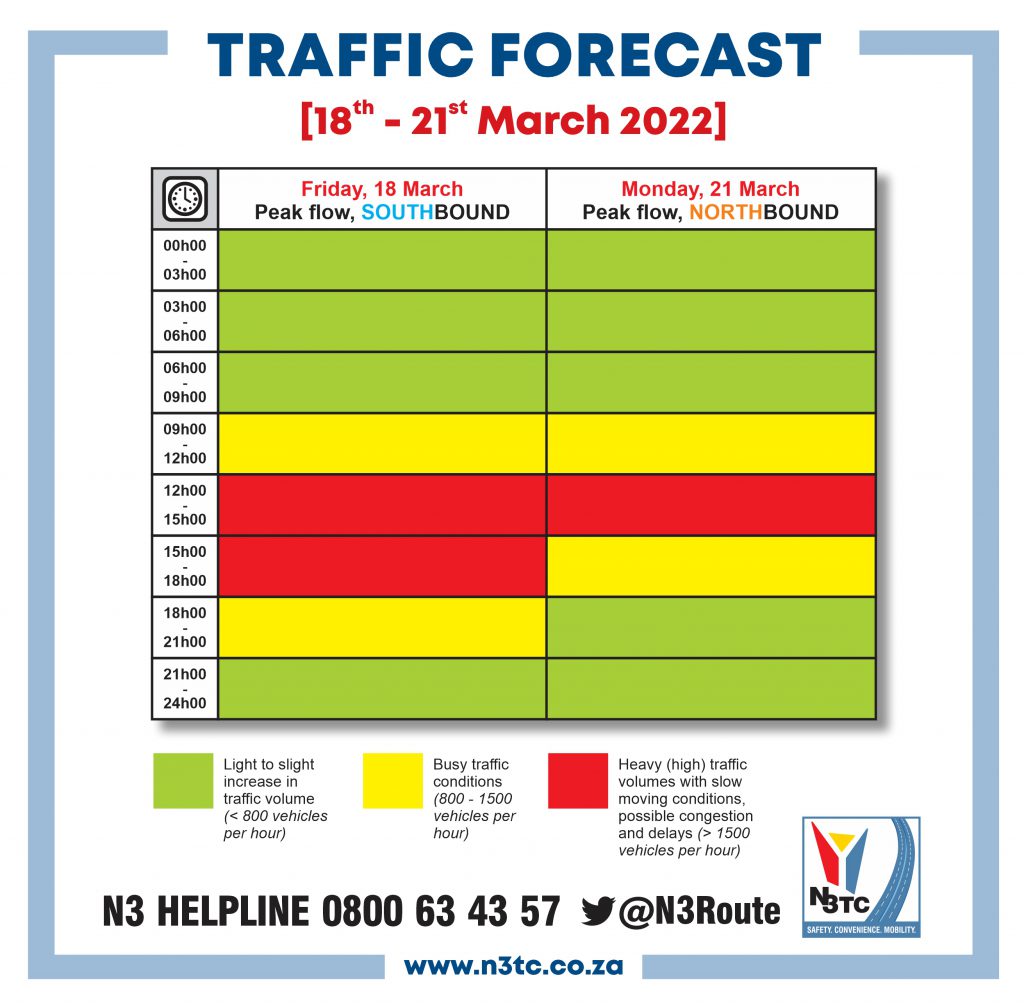 Law enforcement officials, as well as members of the various emergency- and road incident management services have already been deployed along the N3 toll route. They will continue to maintain a highly visible presence along the route for the duration of the long weekend.
Stay informed of current traffic conditions, report problems or obtain emergency assistance by contacting N3TC's 24/7 helpline on 0800 63 4357 or follow N3TC on Twitter @N3Route.
…/ends